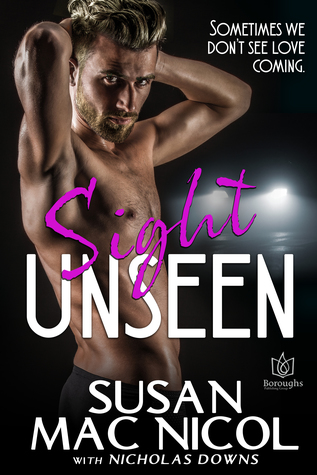 Tragedy brings together a reserved but brilliant sculptor and an outgoing gallery owner, friends whose love was sidetracked—but was always meant to be deeper.
BLINDSIDED
SoCal natives, Nate and Cody have been friends since childhood. Both knew they were different—and the same. At seventeen, a stolen weekend in the Florida Keys drove their connection deeper and hotter than either could imagine. They were meant to be together. Then, for reasons only Nate knows, suddenly they weren't.
They're still friends. Best friends. But they've moved on and found other partners. The yearning remains, however, despite the long-ago secret that drove them apart, and when tragedy strikes, both men find themselves in the dark. They must grope their way back to who and what they are...which they will find in each other's arms. Sometimes, losing one's sight can open one's eyes—and heart.
I'm a Susan Mac Nicol junkie! She writes, I read!
This book came with a warning, a not her usual sexified story.
No, this story is not a sex-filled read, nor did it have to be.
This is a second chance, friends to lovers read.
It's about love, about prevailing... and can't forget to mention the "Ghost" scene! ;)
There were certain aspects I can honestly say that I struggled with.
The bigotry and hate Nate's had to deal with was outrageous and cruel.
Is this truly how people are treated?
At first I thought it was a little out there and too far-fetched... but knowing the way Susan writes, those instances probably happened to someone she knows, making this so very real, and my heart truly hurt for them.
Ultimately, Sight Unseen is about a man's struggle not only with his relationship with his childhood best friend, but with an unseen tragedy in his life.
It's about coping and overcoming, and about those you love and trust to be in your life and to help you live the best life you can.