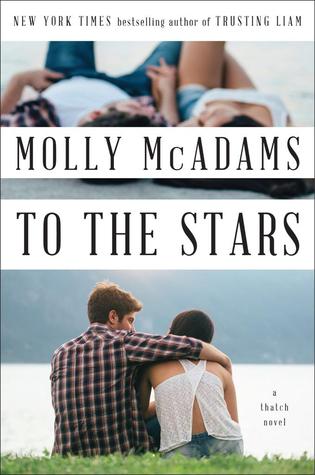 In the second book in
New York Times
and
USA Today
bestselling author Molly McAdams' Thatch series, Knox Alexander must convince his long-time love Harlow Evans that they're meant to be together.
He promised to wait for her.
She told him he was wasting his time.
Not waiting for him ended up being the biggest mistake of her life.
When they were younger, Knox Alexander swore to Harlow Evans that he would wait for her to turn eighteen so they could be together. But that was three and a half years away, and Harlow couldn't ask him to give up all the fun and thrills of going away to college for her. As the years passed, Knox remained a constant in her life—whether she liked it or not—but when her eighteenth birthday came around, Harlow's heart belonged to someone else.
Every day for the last four years, Harlow has been haunted by that fateful choice. And though he may appear unaffected by what happened in their past, Knox has always tried to fill the void Harlow left. But when he comes stumbling back into her life and refuses to leave, will Harlow finally let him into her heart…?
There were definitely elements that I enjoyed... fate, true love and all that jazz.. but I had problems with several of the characters and their actions, making things a little too unreal for me.
The disturbing abuse was not a factor. The blurb tells you, warns you, what you're about to read.
Collin was one creepy mother fu#@er!!!
She was scared out of her mind, as was I for her!
This story is about a girl who is being severely abused. Bravo Molly for creating this horrible character and making me feel it!!!
That, I most definitely give kudos for!
But it is also about a love and bond that was formed between two people that could never be broken.
Their love was solid, albeit having developed very quickly, it was beautiful.
"I love you to the moon and back"
"The moon isn't that far, Harlow."
"Isn't it?"
"No. Not far enough."... "I want to love you to the stars."
And therein lies one of my biggest problems.
For the love and connection they had, his unyielding love and determination, their 'break up' didn't make sense to me!
I can't spoil what happened or how, but Knox!!! What happened dude?
All that time waiting and then... just like that!!!??? For real??
There were other issues that I had with the story pertaining to the family and friends, but as always.. it's my opinion and I will leave it at that.
If you are a believer in 'true love will prevail' and the idea of abuse does not dissuade you, then please read this book!
Molly definitely knows how to write about love, and how to expel emotions from her readers!