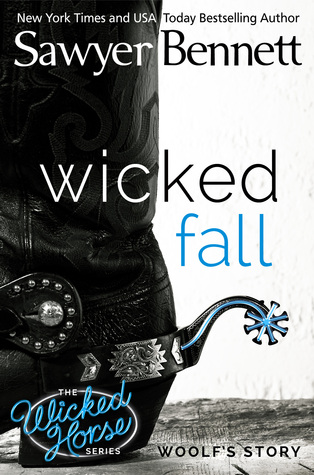 Never in your wildest dreams could you begin to imagine all the filthy and depraved things that go on inside The Wicked Horse. Step inside and Woolf Jennings will make every one of your dirty fantasies come true. He's covered in a facade of deception. An enticing blend of multi-millionaire and hot-as-hell Wyoming rancher, those that think they know Woolf Jennings admire his abilities to preside as CEO of his family's cattle and oil empire. But only a privileged few truly understand what fuels the glitter of depravity in those gorgeous blue eyes. Only a few know he's opened up a sinfully erotic and private sex club named The Wicked Horse right at the base of the beautiful Teton Mountain range.
Sweet Callie Hayes has returned home to Wyoming and is looking forward to starting her life over again. After a night of impetuosity, she's managed to put herself right in Woolf's line of sight… the man who she foolishly offered up her virginity to years ago and was flatly turned down. Now Woolf is seeing that Callie is all grown up and has a kinky side to her that leaves him as confused as it does turned on. Worse yet, both Callie's dirty desires and sweet heart are getting under his skin, and making Woolf question everything he's ever believed about himself.
"While I happen to be blessed with a long, thick cock that makes most women scream upon entry, I do some of my best work with my mouth."
Yee Haw and giddy the hell up! DAMN! I need myself some Woolf Jennings!
"Filthy-talking boy who makes me want to do every dirty thing he commands of me."
Callie's all sweet and innocent young woman, while Woolf's all hard, rough and tough total man!! They've known each other all their lives. Callie was Woolf's best friend's little sister.
There's history, there's feelings and there's off the charts chemistry.
But life got in the way, people move on and things change.
When Callie returns home, Woolf doesn't want his new lifestyle to corrupt the innocent beauty he once knew. Little does he know, that she aint sweet anymore, and corruption is just what she's come home looking for!
"She's all sunshine and lemonade. I'm like a thunderstorm and will roll right over her, ruining everything she is."
I really enjoyed this fast paced and entertaining read. There's sweetness and innocence mixed in with dirty talking, three-way, and throw me up against the barn door and fuck me hotness!
It's got both belt buckle wearing cowboys AND a secret, members only sex club!
What more could you ask for?
"No, I don't want to nibble at life. I want to take a big fucking bite, suck down its juiciness, and swallow it hard with a moan."
Although sex club and themed rooms are involved, those looking for whipping, flogging, get down and lick my boots.. which I totally would, if Woolf asked me too, aren't exactly going to find that here.
Yes there is lots of kinky fuckery, roll play and voyeurism going on, but it's not what I'd call a BDSM book.
It's dirty, it's fun and it's hot as hell!
I'm hooked! Bring on book 2!!!